888Live Austria delivered an unforgettable weekend on the slopes for 888poker's online qualifiers and all the other players who joined the action. Sadly, all good things must come to an end at some point.
This year's event kicked off on the 4th of February in skiers' heaven. The city of Innsbruck is located in the heart of the Alps and a popular destination for winter sports.
Combined with a $50,000 guaranteed Main Event and a $5,000 Bounty Free Tournament, 888poker's"Snow Limit Poker" proved to be an adventure of a lifetime.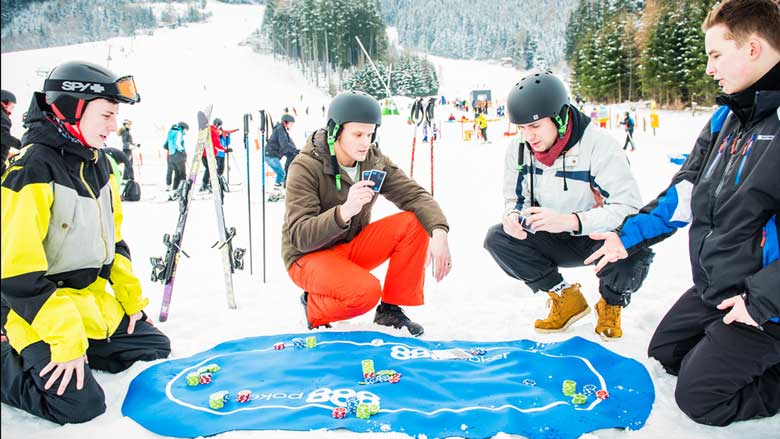 Ski & Poker – the perfect combination. Photo by: fabfotos
Let the Fun Begin
For the 60 players who were astute enough to secure a $1,700 package through our online satellites, there was an informal Welcome Toast at the Grauer Bär Hotel. There was a great deal of excitement in the air, and everyone seemed itching to get in on both the poker and skiing action.
"I have to admit it, I got really lucky," said Dominic Hine, a 54-year-old online qualifier from London, "as I gained my entrance through a freeroll and won one of the ten tickets which were up for grabs. Lady Luck has not been on my side for the last two weeks, but I hope she smiles at me this weekend!"
We also bumped into last year's 888Live 'Poker on Ice' winner, Thorsten Facius, who wouldn't have missed this year's tournament for the world.
"I couldn't miss it after last year's experience!" he laughs, "This is my fifth time with 888live events. Besides Seefeld, I have played two times in Prague and one time in Morocco."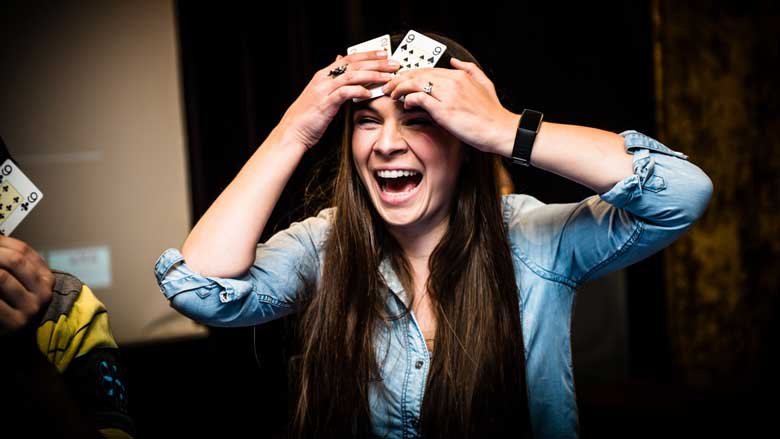 Event host – Tatjana Pasalic. Photo by: fabfotos
Event host, Tatjana Pasalic, caught up with ‪888Live‬ Austria Trivia Contest winner Elliot Maunders, who was seemed ready to do battle on the slopes and on the felts. Joining in on the pre-poker fun was 888 ambassador, Sofia Lövgren, who was born to ski, as well as play poker.
Together, everyone had a fantastic time on the slopes, surrounded by a breathtakingly beautiful landscape. It was great preparation for the intense poker action to come…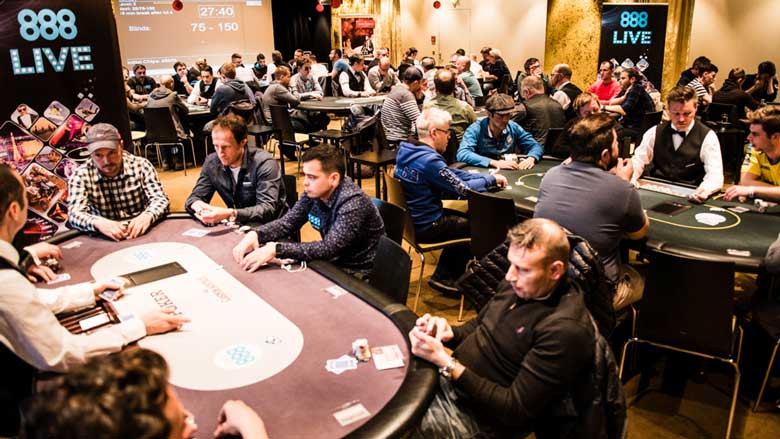 128 players on the Main Event. Photo by: fabfotos
Let the Action Begin
Batteries recharged, 128 players creating a prize pool of €41,820, entered the Main Event at Innsbruck Casino the following afternoon. Team888's Dominik Nitsche finally made his entrance and with the two 888poker pros in the mix, action got underway.
Play was somewhat demure, until Blind Level 8. Pavel Eteev, who won his entry via a freeroll satellite, hit the very first 888 Full House. Going all-in pre-flop with 8h-8c, it seemed a forgone conclusion that the boat was on the cards. However, he had a mountain to climb when his opponents flipped up Js-Jc.
With the 888poker god's smiling down on Pavel, the flop come down: 8s-Qd-3c. A 3d on the turn gave him his Eights-full and the river 5c sealed the win. Along with the double up, he bagged himself a PlayStation 4 for being the first to make a full house with a set of 8s.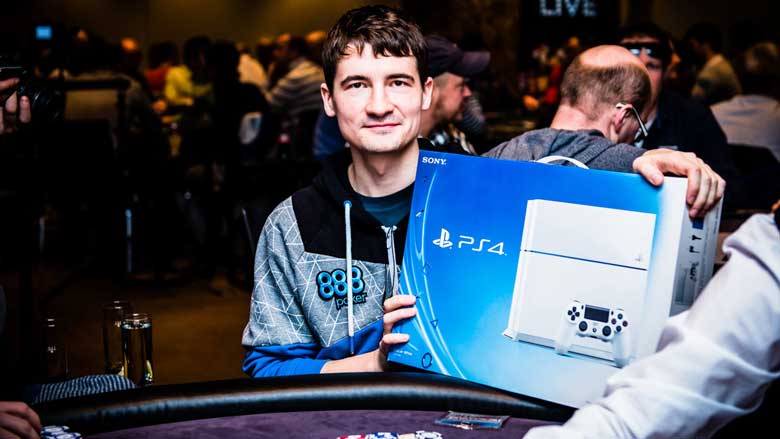 First 888 full house – Pavel Eteev. Photo by: fabfotos
Well-known American Pro, Alec Torelli, joined the tourney a few levels in, but that didn't dampen his determination to do well. After entering the event on a whim, as his wife had always wanted to visit Innsbruck, he was in pole position at the end of Day 1.
"My wife and I were in Milan, and we decided to head up to Innsbruck as she always wanted to bring me here," Torelli explained. "We've heard about the first 888poker event of the year, so we said 'why not?'. I got here two hours late, but I think things went really went well for me today. I had an amazing run of cards and made a couple of good reads – so, here I am on top of the count!"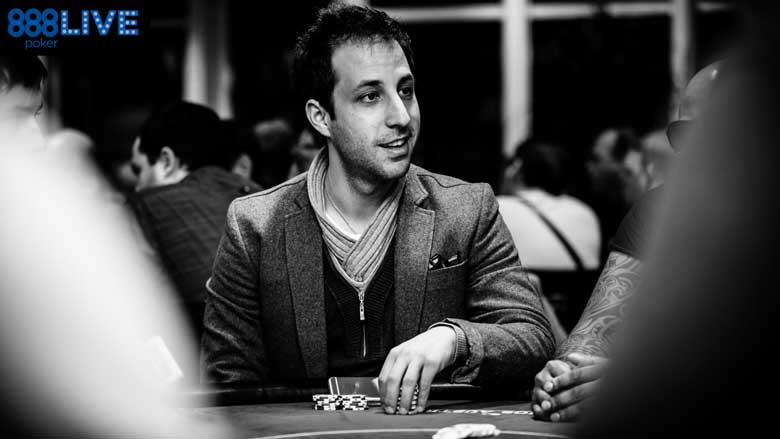 Alec Torelli – Day 1 chip leader. Photo by: fabfotos
Team888's Dominik busted his first stack shortly after Pavel made his 8s-full, but rebought in and was able to double up with J10-suited. 888 ambassador, Sofia Lovgren, managed to scrape through Day 1 despite not getting any real hands to play.
"Unfortunately, I've been without good cards all day, and I finished with approximately 19,000 chips. I made a few steals and a couple of bluffs to stay in play, so tomorrow I'll have to risk something. However, this has been a lot of fun so far!"
With €11,710 going to the first place winner, Day 2 was shaping up to be a roller-coaster ride.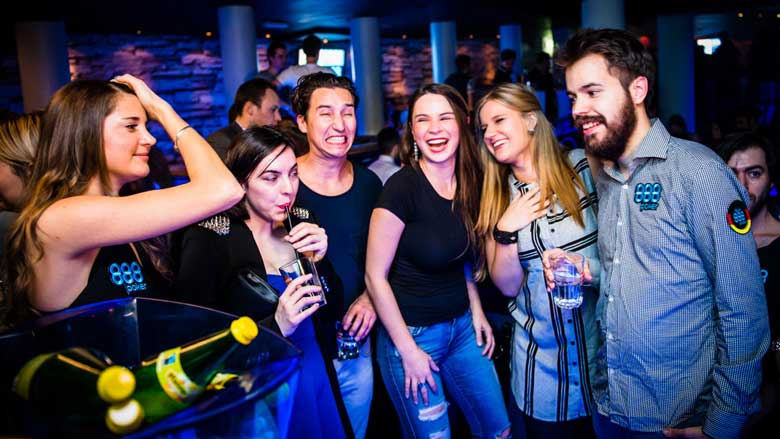 Party Time… Photo by: fabfotos
Day Two Action
After a night of hard partying at Innsbruck's Blue Chip Club, players got ready for Day 2's action.
Team 888 ambassadors Sofia Lövgren and Dominik Nitsche did well to make it past Day 1, but they both busted short of the money. Sofia finally got cards but ran Kings into Aces, and that was that. Dominik got it in with AQ-suited versus 10-5 suited. Unfortunately, the 10 on the flop sealed his fate, and he went out in 36th place.
Alec's deep run continued until the final table. He went out in10th place, just a few hands after the start.
"I did my best to win, but I was short in stack, and I had to risk something. We had definitely a great weekend, though!"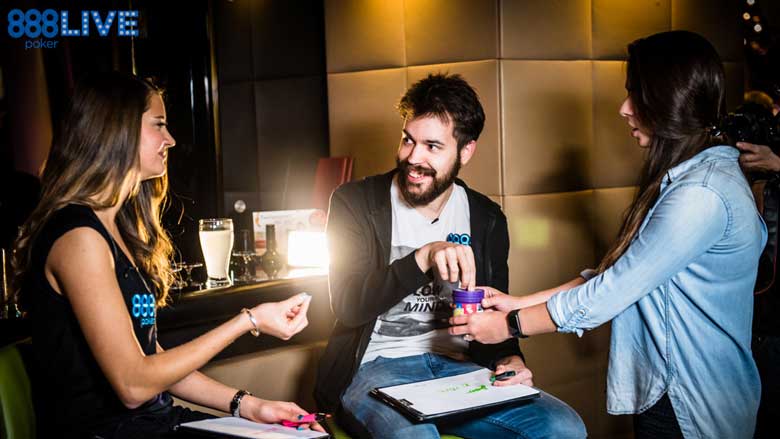 888 ambassadors Sofia Lövgren and Dominik Nitsche. Photo by: fabfotos
Meanwhile, 888 qualifiers who busted the Main Event were invited to play the €4,000 ($5,000) Freeroll Bounty. To amp up the fun, a few hands were played "Blind Man Bluff Poker" style with hostess Tatjana Pasalic, Sofia and Dominik getting into the spirit. Sofia made it to the final table, along with Tatjana, but she lost the crucial hand against Celmins Matiss, who took the event down.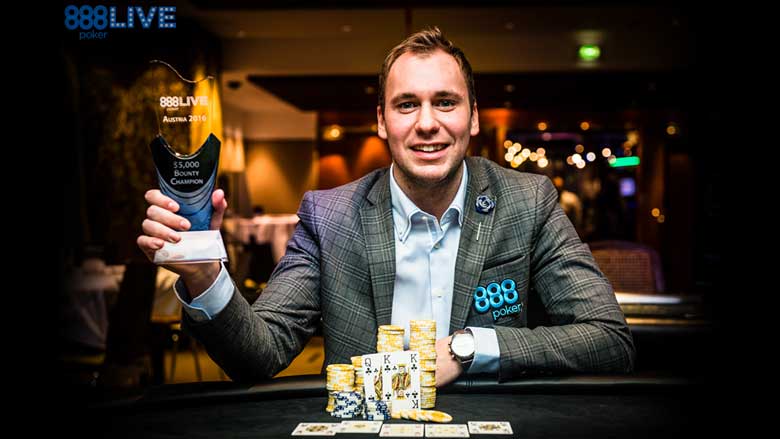 Celmins Matiss – The Freeroll Bounty Event Winner. Photo by: fabfotos
It's the Final Table
The remaining 9 Main Event finalists played for about 3 more hours until the last three players made an ICM deal. At that time, Ivan Mairhofer was the chip leader. He got most of the money, and they agreed to play for €990 plus the trophy for the winner.
After an intense battle, Eliot Hirn's 2s-2h defeated Mairhofer's Jd-Jc, as the board came down 2c-7h-6h-Qd-3h. Looks like it just wasn't a good tourney for pocket Jacks! Hirn's set of Deuces crowned him the 2016 888Live Austria Champion.
888Live Austria is now over. But, we hope to have given everyone lots of good memories
Until the next 888Live adventure!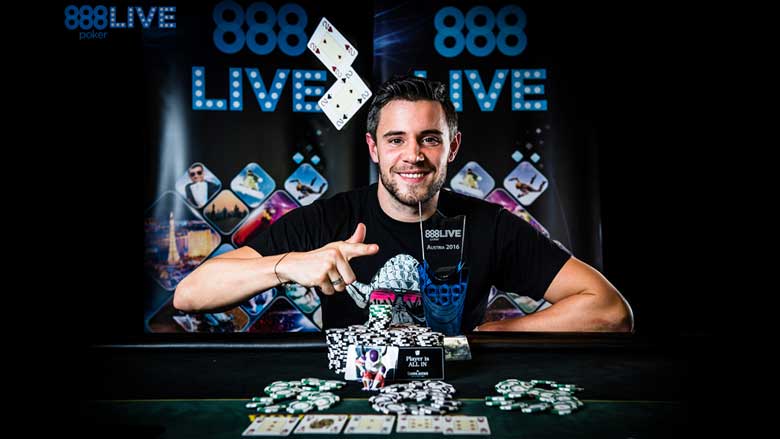 See you in the next 888live event. Photo by: fabfotos