From May 18-22, the 888Live series will head to one of the Mediterranean's most exotic locations — Costa Brava on Spain's Catalan coast. The Gran Casino Costa Brava, which is located in the Girona town of Lloret de Mar (just north of Barcelona), will play host to the second Live circuit stop of the season.
The headlining 888Live $50,000 guaranteed Main Event will be held on May 20 and 21. At about the same time, 888Local will be holding its series starting on May 21 and ending on May 22. If you're still hunting for a way in, players can win tickets to the 888Live Main Event via a satellite freeroll on May 19.
The combination of good weather – it's the start of summer – and juicy poker action is sure to appeal to players, who're expected to turn up in force for the $400 buy-in Main Event over the weekend. That tournament will run from Friday to Saturday, and players will start with 25,000 in chips while playing 30-minute levels. One re-entry will be permitted.
Kara Joins the Action
What's more, Team888's newest Ambassador, Kara Scott, will host the event while simultaneously competing on the felt.
"I'll absolutely be playing the tournament," said Scott. "I'm lucky that I'll be in Spain to host the event, but there should also be enough time for me to sit down at the tables and try my luck. Have you seen the trophy? I want it! After doing so well in London, I'm gunning to make 2/2 final tables as an 888 Ambassador. Hey, a girl can dream."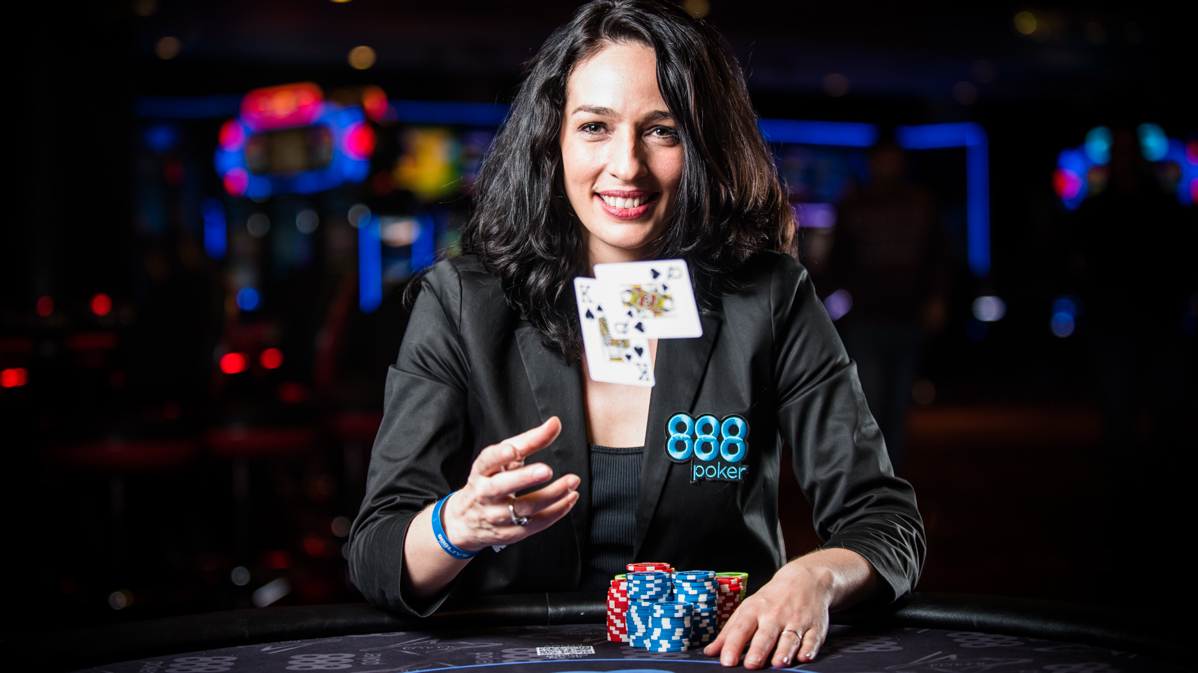 Can Costa Brava Top 888Live Austria?
In February, 888Live first event of the season took place in Austria where Team888 Pros Dominik Nitsche and Sofia Lovgren had fun on the felts as well as the slopes. 128 players made for a total prize pool of €41,820 and some guaranteed action. Poker pro, Alec Torelli, also happened to be in the neighbourhood. He made a deep run, but busted early on Day 2.
Adding to the overall success and enjoyment of the event were variations of the game, like "Blind Man Bluff Poker", played during the $5K Freeroll Bounty, for those busting out early from the Main. With poker player and host Tatjana Pasalic holding down the fort, the event went without a hitch. And, after an ICM deal at the final table, Eliot Hirn took title and trophy.
Will 888Live Costa Brava top the Austrian event? Well, you'll just have to wait and see.
888Live Running Good
The 888Live Costa Brava comes on the heels of a successful 888 Local London Main Event, which took place in early March.
"I had an amazing time at the 888 Local event in London," said Scott. "The Aspers poker room is top notch, and we had a lot of fun playing poker, exchanging stories, having a bit of banter with the locals. I think that's the real draw of the Local events. The 'Experience' events like the upcoming Costa Brava have a different flavour."
"It's more of a mixture of going on holiday, with being able to play some poker and think about making a bit of money, and hopefully a title and trophy as well. I think a lot of players will bring a partner or friend along with them to the Experience events for 888Live because they're so much more than poker. It's about having a laugh, trying some new things and having a blast. This will be my first 888Live event in a destination like this, and I can't wait!"
Scott continued: "Being able to get out into the sun and have fun on the water absolutely takes the sting out of a potential early exit in the Main Event! I'm not much of an adrenaline sports person, but I adore boats and spend as much time by the sea as possible. I'm looking forward to the kind of relaxation that comes at the end of a day spent in the ocean. A lovely cocktail, some great seafood, a bit of sun on the skin and I'm a happy camper. And, if I get the chance to catch my own dinner by doing a bit of fly-fishing? Then I'm even happier."
888Live Costa Brava Details
When: May 18-22, 2016
Where: Gran Casino Costa Brava
Address: Av. Vila de Tossa, 27-43
17310 Lloret de Mar (Girona)
Telephone: +34 972 36 11 66
Age Requirement: 18+
Dress Code: Smart casual. Bathing suits, coats and backpacks are not allowed.
Satellites for the 888live Costa Brava are running for as little at $0.01. While registration for a $160 buy-in 888Live Costa Brava Qualifier – which will award a package that includes four nights at the five-star Guitart Monterrey Hotel, $400 tournament buy-in, $450 in travel money, an 888Live kit, and water sports activities – is open now.